Hi cuties !
Today I'm gonna review some awesome Etsy's goodies! These are from StarInMyPocket :'3
The owner, Sarah, better known as Star, was so kind she gave me tears of joy! She answered every message really quick, and always with happiness! We talked a LOT about Avatar: The Last Airbender, she congratuled with me for my Zuko's cosplay, and we fungirled together on Zutara 8)
She also telled me about that one time she met Zuko's voice actor and he said he shipped Zutara! My dreams are a reality! (lols)
Moving on onto this review! StarInMyPocket sells awesome items all with an original drawing made by Star herself! She's so damn good, I fell in love with her unique design on the spot! Not to talk about the fact that she's in a lot of fandoms which I'm into too, so we all of her products were catchy to me :') 
This is how the package reached my place! It was in perfect condition, not even a scratch or a crease! And it was the first time for me receiving such a colorful bag! It was really like a present! The inside is full with bubbles to preserve the items, which are anyway wrapped. It also contains Star's business card.
Here there are the front/back images of the package as it came to me. The blue transparent paper let you catch a glimpse of the items inside! On the business card, there are mentioned all the links and contact to reach Star, and on the back it says she also does caricatures! They are so funny and well-made, I advise everyone to get a look at them on Star's Deviantart.
The wrapping was closed with a silver lace that reminds me of Christmas! This could be seriously be one awesome present for a friend! It's handmade, original, cool and it comes at the right price!
I will review three items!:
They are all Avatar-themed, which I could not better hope for. I love them so much! I will proudly wear every of this pieces. The pin are already attached on my school backpack, the keychain to my home-keys and I'm just waiting for the perfect place to attach the stickers! My problem with them is that they end so fast while I'd like to use them forever >v<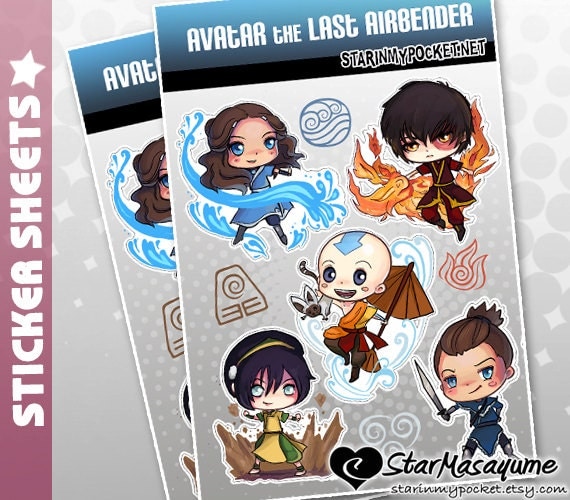 First of all the 
Avatar the Last Airbender Stickers ! They are the reason I found the shop! I was just randomly looking at the Avatar tag (I'm a bit obsessed at the moment) and there they were. I adored them the moment I saw them.
There they are. I was screaming as I watched them close. The details! The characters! My babies all in one sheet ;___; ❤
This is the store description:
"4×6 Sticker Sheets for Avatar the Last Airbender featuring Aang, Katara, Sokka, Toph, and Zuko. 

Quality vinyl stickers for durability against fading and average weather conditions. Each sheet has been kiss cut to easily peel and place these adorable stickers wherever you fancy! "
I want to make you notice that they sells a ton of different designs from almost all famous anime/tv-shows! You can't miss them out! Look at this!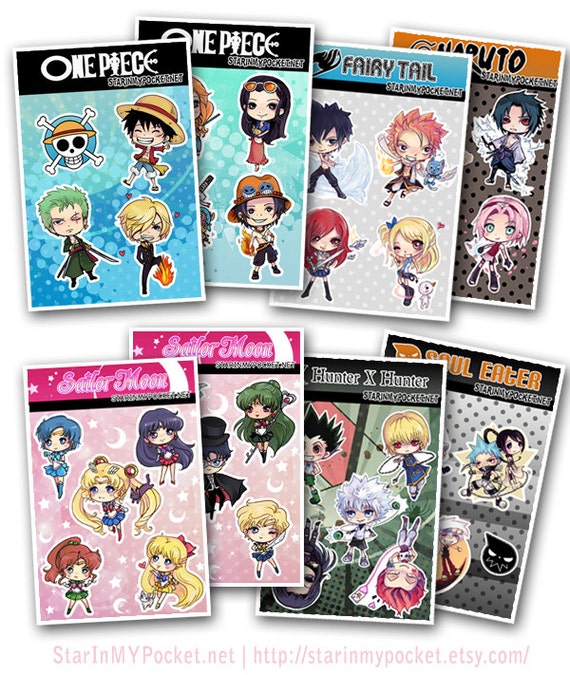 They are all so well-made ;; Search out her store to find more beautifully-drawn stickers!
Also, for all the Avatar fans like me:
"(☆▽☆) Legend of Korra Sticker sheet available!
Look for it in shop or select to order both together for a discount. "
They come in a plastic bag to preserve them, and also have a cardbox behind them so they won't ruin. On the back they carried another business card, awesome!
I've also made a close-up photo because I wanted to underline the fact that the stickers are the characters body, but nothing stops you to cut also the element symbols and use them as stickers too!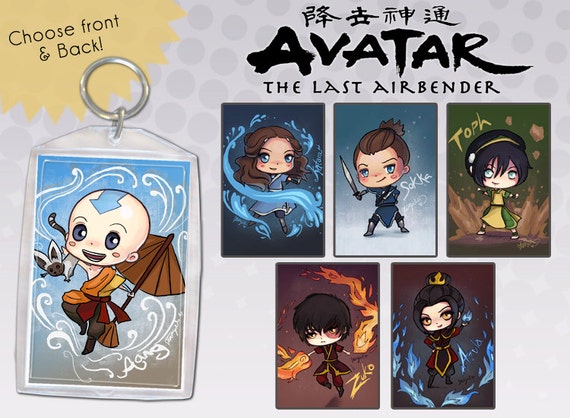 The second item is the 
Avatar the Last Airbender Keychain Double-Sided ! You can choose wich character do you want in the front and which in the back! The choices are Aang, Katara, Sokka, Toph, Zuko and Azula in Chibi! 
So here we see also Azula's design, but unfortunately I didn't choose her. As I understood that I could've choose, I went with my adorable Zutara!
JUST LOOK AT THEM *gasps
They are so adorable, and in a such high-quality keychain I can't stop looking at them and having them with me. Side by side as I made in this collage, they are even more beautyful *le cry

I don't know if it's just me but— are they doing a heart with water and fire? Are they? !
The size is about 3×2 centimeters. I've put an Euro next to it to let you see the difference. They are pretty big! Which makes the draws more noticeable, everyone will stops to ask were did you buy such an unique piece!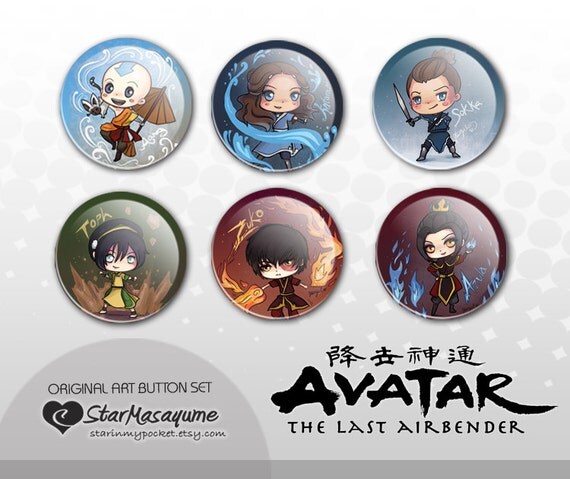 The last but not least item is the 
Avatar The Last Airbender Button Set ! All the six of them for that price??!?! I couldn't believe it! So now I also have something with Azula on it! I'm so happy about it, she's a badass princess 8) 
Here they are! Came in a plastic bag and set one next to each other. I'm madly in love with everything!
Remember! StarInMyPocket also sells Buttons (and Set Buttons for even cheaper!) of a lot of anime/manga and tv shows or books/films!! Just to name a few: HunterXHunter, Doctor Who, Sherlock, Fairy Tail, Harry Potter, the Avengers, Soul Eater, Frozen… and so much more!
They also have this amazing deal: "Don't want the entire set? Look for my pick 5 button listing in my shop which let's you mix and match your favorites. "
This is the pin size, again next to one Euro. They should be 1.5″.
Azula is so cool!
I loved everything about this shop! The owner is the cutest thing (and she's also really beautiful) and the products she made have the highest quality from an Etsy's shop you can hardly imagine!